MSDUK's 2022 End of Year Review: The Highlights
28 Nov 2022
At MSDUK, we believe in the power of people. We believe that when you bring diverse perspectives to the table, you get better solutions.
This year we have been working tirelessly to strengthen our Ethnic Minority Businesses (EMB's) and corporate network, expand into new countries, and launch some of the most innovative research on minority businesses in Europe! In 2023, we expect this growth to continue, with a focus on building a stronger community within our network and fostering partnerships with other business networks and diversity groups so that everyone can come together under one goal.
Check out some of the MSDUK highlights this year!
1.World Class Programmes
MSDUK is committed to investing in the development of EMB's of all sizes. We want to help develop early-stage starts ups, founders, and high-growth businesses that want to scale up and go global.
Additionally, we are also committed to offering a fantastic opportunity to global, British, and European companies to excel in their supplier diversity journey. In 2022, we hosted several successful programmes that helped us achieve our goals. MSDUK Innovation Challenge, MSDUK Accelerator, and our much-awaited MSDUK Centre of Excellence programme designed to support our corporate members throughout their supplier diversity journey.
1.a Centre of excellence
In April 2022 we hosted our first high-impact residential with 19 supplier diversity professionals. We developed an extensive and robust offering to help companies on their journey towards establishing an effective supplier diversity programme. This was done by offering practical guidance from roadmaps, benchmarking, toolkits, white papers, and training programmes.
"I've really enjoyed the 2-day residential on supplier diversity. For me what has been particularly valuable was networking with others and listening to their journeys and how everyone is at different points. It was great to listen to variety of best paratice and approaches that we all shared."
Baljit Sidhu, Global Procurement Category Lead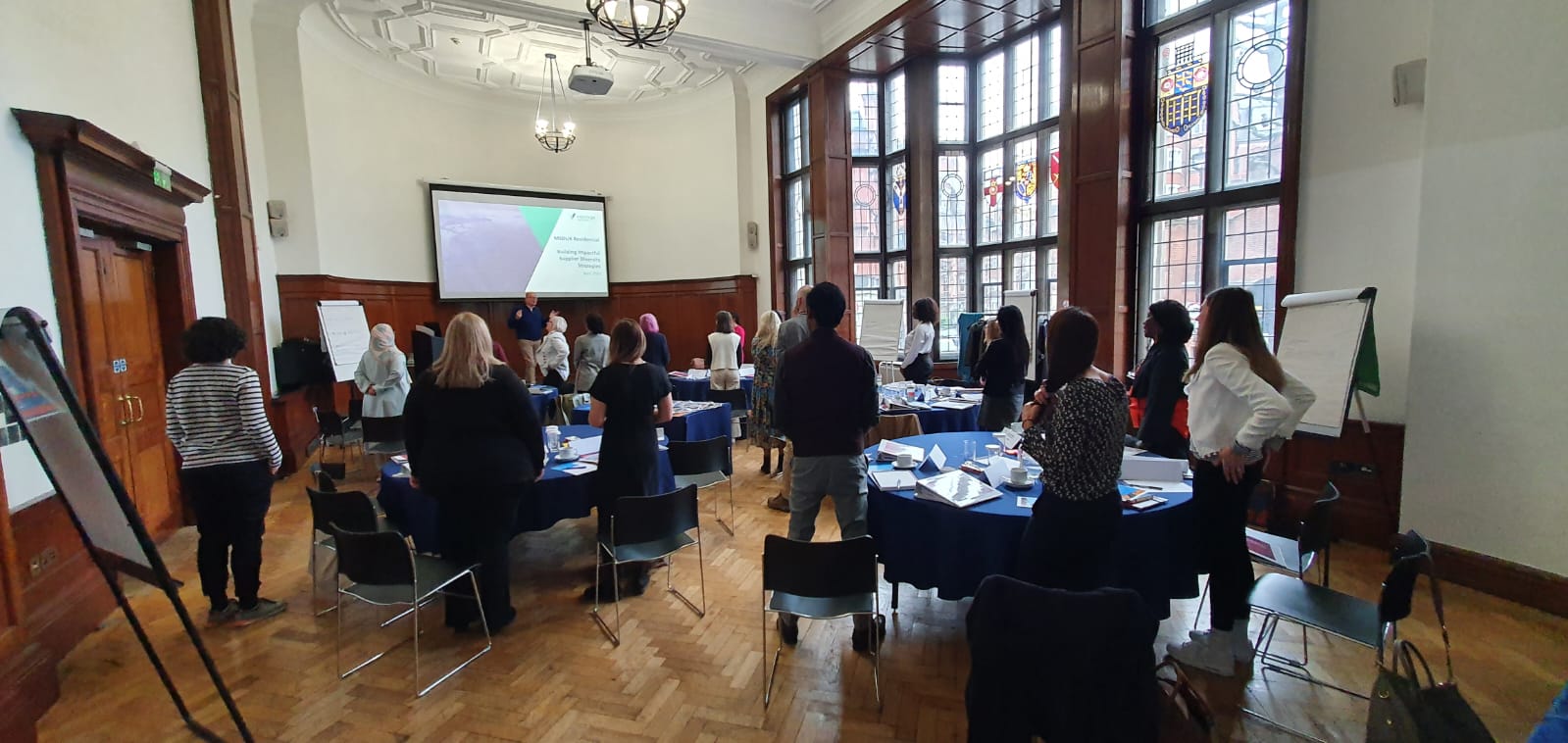 1.b Innovation Challenge
The Innovation Challenge is MSDUK's flagship pitching competition designed to showcase ethnic minority entrepreneurs' innovative sustainable solutions, to a range of global corporations. The challenge breaks down barriers to entry for early-stage ventures, entrepreneurs, and high-growth Ethnic minority businesses (EMBs) from all sectors by providing exposure, connections, and access to a range of prestigious corporate sponsors.
2022 was the sixth year that the Innovation Challenge competition has been held. We received 103 applications in total, with great representation in the gender and ethnicity of applicants. The theme for this year's Innovation Challenge was Corporate Sustainability and how our EMBs can help corporates with this through their solutions. We split the competition into three categories: economic, environmental, and social. The overall winner from the three categories received a staggering £20,000 cash prize and a place on the Accenture corporate mentoring programme.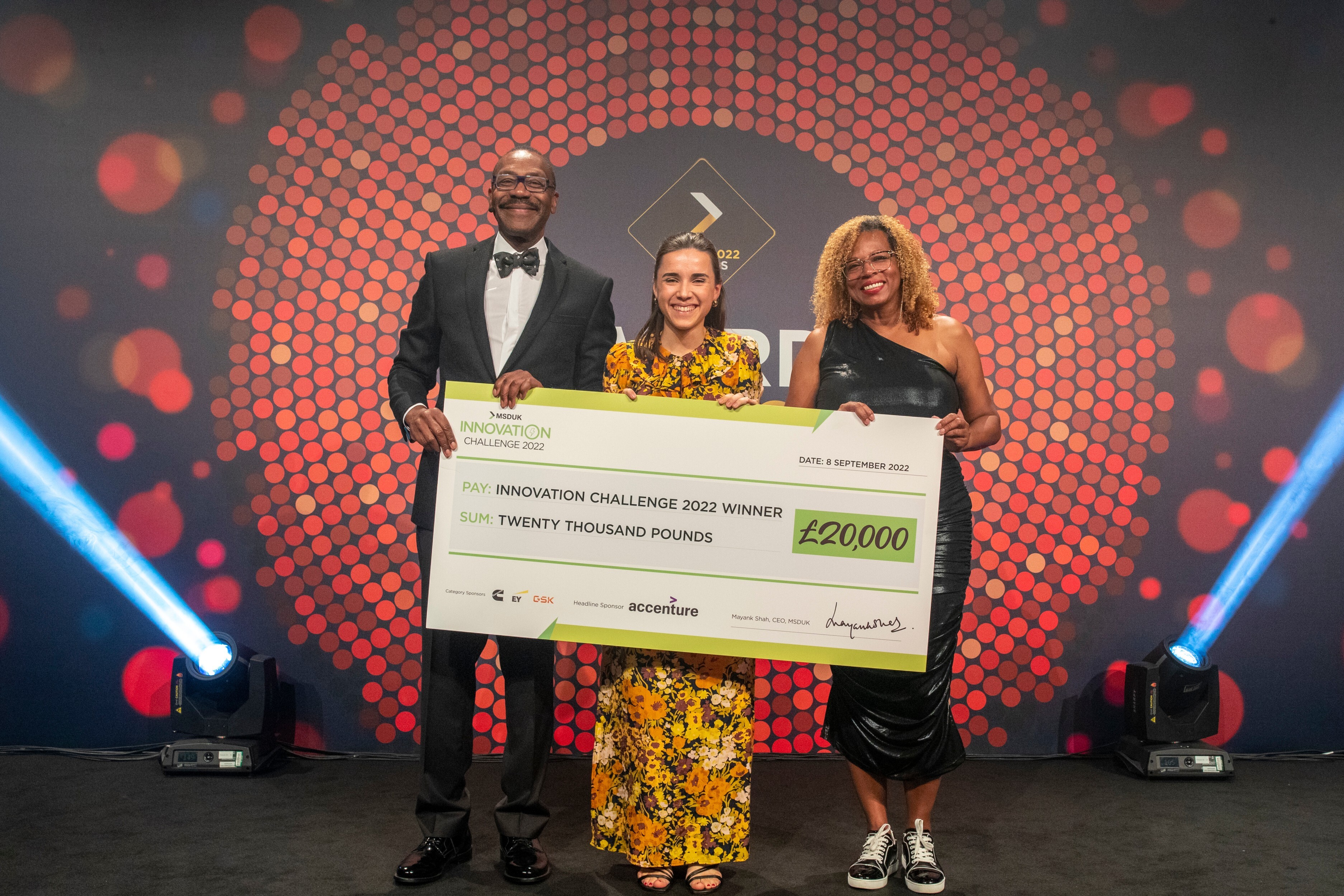 1.c Accelerator
The MSDUK Accelerator is a 4-month equity free programme designed to educate, challenge, and connect ethnic minority early ventures. During these 4 months, our founders will be plugged within a rich ecosystem of expert facilitators; mentors; experts in residence; and a community of ethnic minority founders.
We do this at no cost to the business and take no equity. Through educating, challenging, and connecting, we want to help you realise your full potential. Since 2021, we've had over 57 mentors, experts in residence, facilitators and industry leaders actively engaging and supporting our founders!
We supported more than 40 founders with over 506 hours of mentoring and 1-2-1 sessions!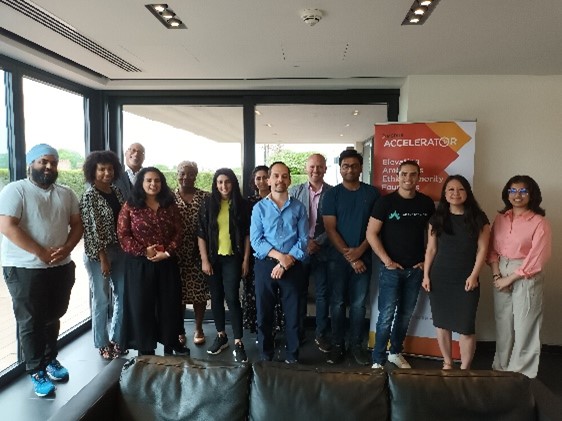 2. Our Digital Transformation Journey
2.a Website Launch​
We launched our enhanced website on March 15, 2022. Along with the new look for the website, we migrated all of our historical data into a new ERP system and made sure to consider all the data gravity and data silos that come with it.
All of our members (both Corporates and EMBs) now have access to our certified Ethnic Minority Database, which means more potential opportunities for collaborations!
And best of all? Our employees had a 60% increase in their efficiency thanks to real-time data—which helps them make better decisions than ever before.
2.b Identified Database​
EMB's are a vital part of our economy.
But what we've found is that there are far too many businesses that have been overlooked because they don't fit into the traditional categories.
That's why we're proud to announce our new Ethnic Minority Businesses Database identifying 69,000 businesses. This database will help government agencies and corporations make more informed decisions about their procurement practices and help them move towards a more diverse procurement process.
2.c Freelance Portal
This year we launched a brand-new freelance certification portal. Our Freelance Certification is a powerful way for self-employed freelancers to open doors for their businesses. We offer an effective digital certification process that empowers entrepreneurs with the tools needed to succeed. Our Certification Programme will allow freelancers to accelerate and strategise their relationship with corporate procurement needs.
Take a look at the eligibility criteria to see if you can register as a certified freelancer
You are a Self-Employed Individual / Sole Trader. ​

You must be a registered taxpayer in UK / Belgium / France/ Ireland / Netherlands / Germany / Sweden.​

You must have a Unique Tax Reference ID from HMRC / the respective government body.​

You must be an individual of ethnic origin.​

You must have an Indefinite Residence permit in your country of residence.​
3. Largest Supplier Diversity Conference in the UK and Europe
This year we hosted our biggest conference to date!
The 2022 MSDUK Conference and Awards offered the perfect platform for suppliers and corporate members to showcase their achievements. More than 900 individuals from all around the world attended this event, making it one of our most successful conferences ever! From keynote speakers to outstanding business shows and dazzling awards ceremony, this annual supplier diversity event has become very special for us here at MSDUK. It was a great opportunity for everyone involved to celebrate together, inspire each other and push themselves forward!
Next year our conference we are extremely excited to host 2 new conferences!
The first event will be the 2023 Business & Innovation Show which is a truncated version of our Conference. This event will feature the MSDUK Business Show, Innovation Challenge Finals and the Knowledge Forum.
The Second event will be the ESDP 2023 conference. This event will be bring together industry leaders, investors, innovators, start-ups and high-growth ethnic minority-owned businesses to connect, share knowledge and build lasting business relationships at Amsterdam's most prestigious Beurs Van Berlage venue.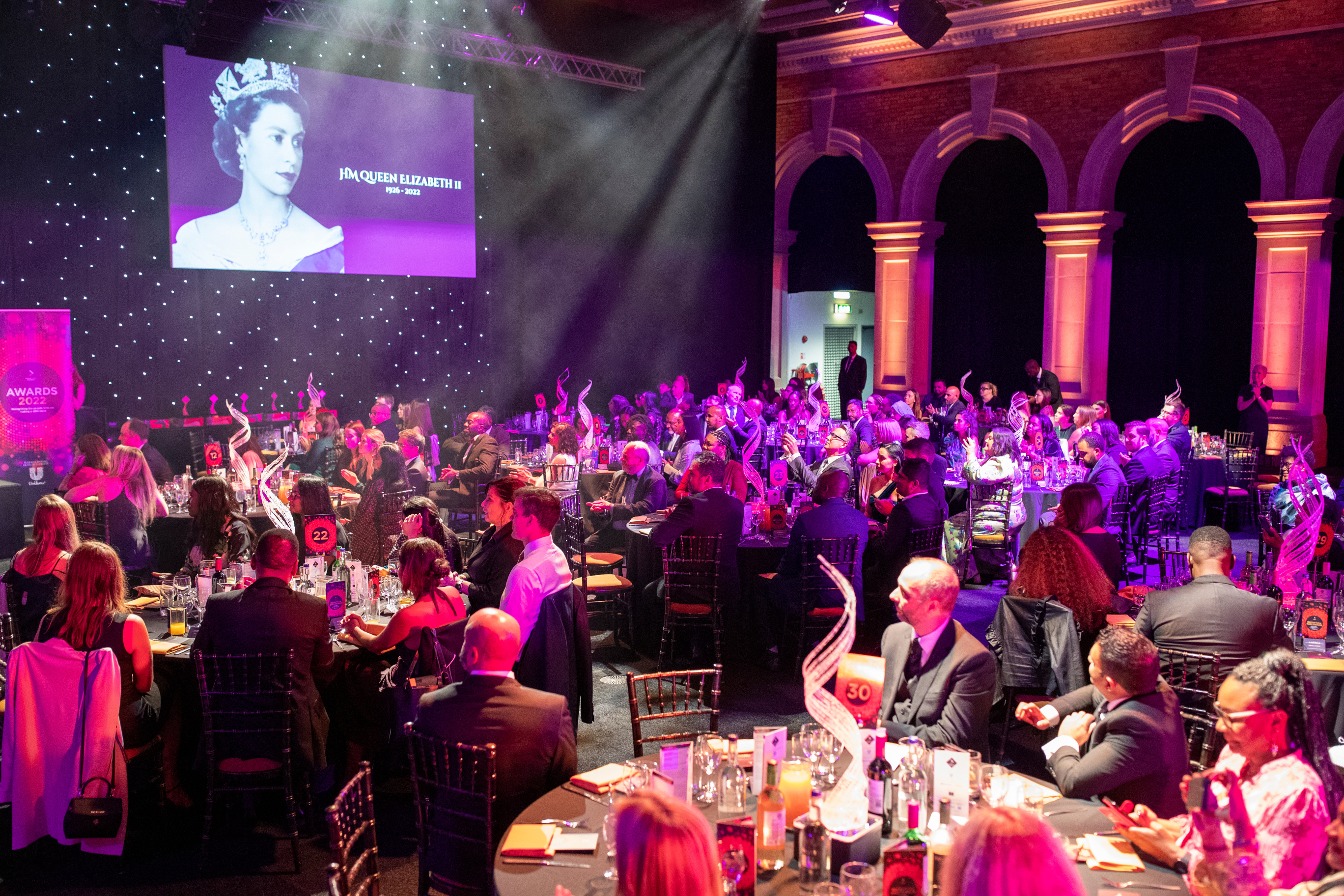 4. MSDUK Global Presence
4.a ESDP
This year, MSDUK announced the launch of its European expansion programme with a two-year 'European Supplier Diversity Project (ESDP)', which will connect minority-owned businesses across France, Germany, Sweden, the Netherlands and Belgium to corporate supply chains.
Our mission is to help EMB's in Europe sustain and grow by connecting them to global corporations that are committed to a more diverse and inclusive supply chain.
The ESDP will be delivered through a combination of partnerships with leading corporations and their suppliers, as well as support from local governments and other strategic partners.
We look forward to working with our partners to build this exciting new project together.
4.b GSDA
Last month, our team attended the National Minority Supplier Development Council Conference in New Orleans.
Amongst so many highlights of the conference was the breakfast event hosted by the Global Supplier Diversity Alliance GSDA. This unique collaborative and effective global supplier diversity platform represents international supplier diversity advocacy organizations in five countries: Australia, Canada, China, South Africa, and the UK. The purpose of GSDA is to drive inclusion of ethnic minority-owned businesses within corporate supply chains across the world!
We are so grateful to be part of this world-class initiative.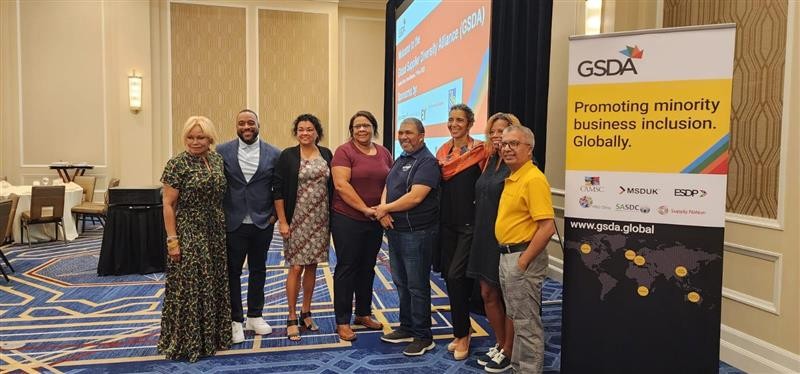 5. Events
As live events are back in full swing, 2023 is going to be more exciting and productive than ever before. We've got some great new events added to our calendar, as well as some exciting updates to our existing ones.
Our events provide a unique opportunity for EMB', procurement professionals, supplier diversity leaders, and our partners to connect, network, and build lasting business relationships. We also offer peer-to-peer learning and development opportunities to all our stakeholders through a range of workshops, seminars, training, and executive education programmes!
Check out our events calendar for next year.
6. Meet Our Team
It's been an amazing year for us, and we couldn't have done it without our amazing team!
Over the last 11 months, we have welcomed 13 new people to our team, from senior members with decades of experience to fresh graduates with innovative ideas.
This year, we've been able to accomplish so much. We would like to extend a personal thank you to each team member. They have all played a crucial role and helped us achieve so much and we can't wait to see what 2023 holds!
We are so grateful to have such a dedicated team to help MSDUK push the supplier diversity agenda nationally and globally!