MSDUK LAUNCHES ACCELERATOR PROGRAMME TO HELP ETHNIC MINORITY-OWNED BUSINESSES IN THE UK BUILD CONNECTIONS WITH GLOBAL COMPANIES
30 Jun 2021
Unilever, WPP, Google and Dow among first corporations to back the new supplier diversity initiative that will see 300 ethnic minority businesses become supply chain ready
MSDUK, an organisation that champions the inclusion of ethnic minority businesses (EMBs) and founders in corporate supply chains, has partnered with Unilever, WPP, Google and Dow to launch the UK's first accelerator programme focused on helping 300 EMBs to become supply chain ready.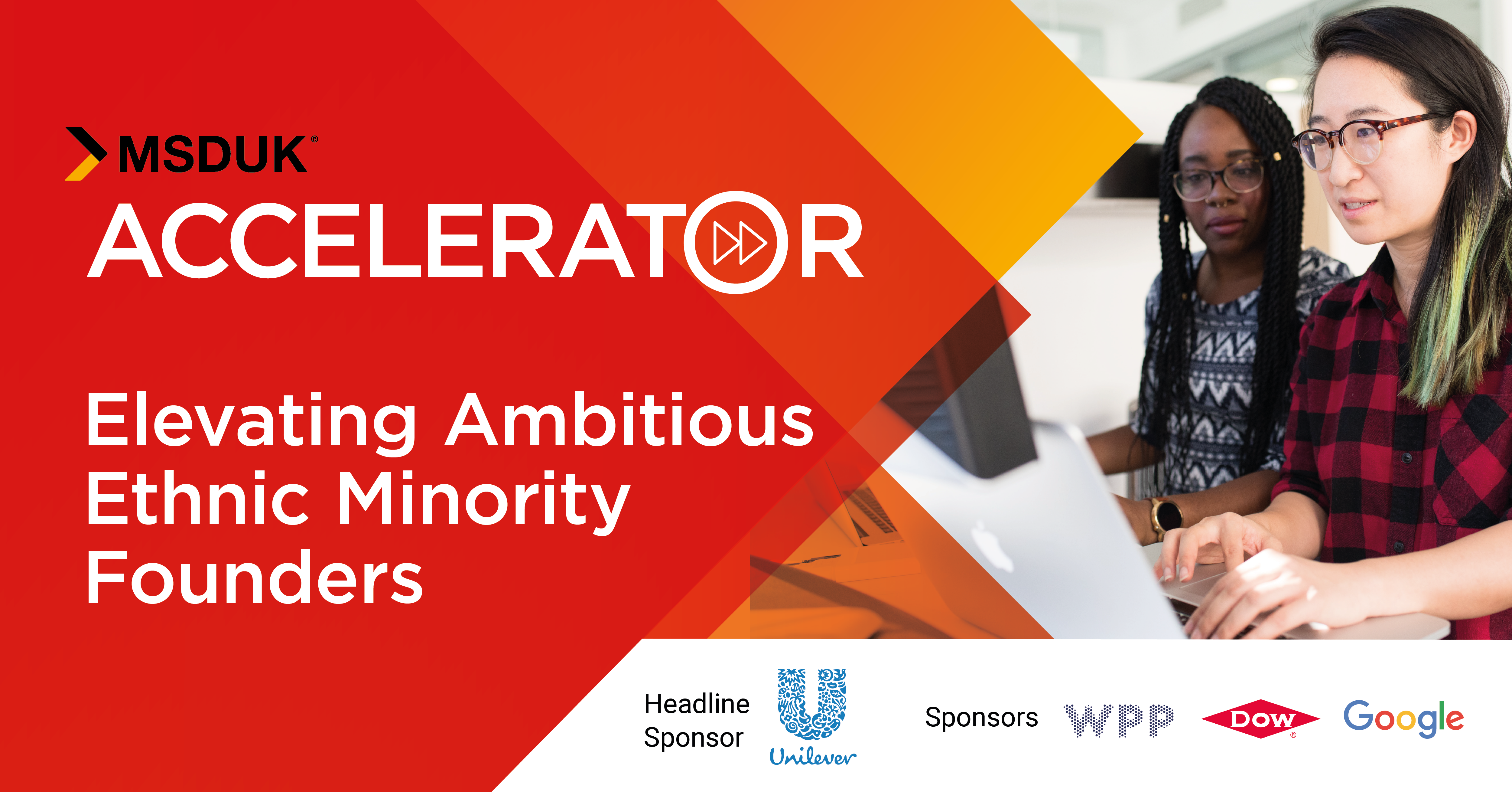 Research shows that ethnic minority start-ups face a number of challenges to succeed and build sustainable businesses including a lack of early-stage investment, VC funding and access to social capital and mentors. These businesses are also under-represented in both public and private sector supply chains.
From today until 30 August, minority ethnic founders from across the UK with an innovative product or service and growth ambitions can apply to join the cost and equity-free four-month programme. With the first cohort of 40 ventures starting in October 2021, the initiative provides a platform for ethnic minority founders to build connections, gain access to the expertise and senior counsel of MSDUK and its corporate partners via one-to-one mentoring sessions, group workshops, brainstorms, bespoke support packages specific to the specialist area of the corporate partner involved and more.
The programme has been created with experiential learning at its core and by experts in corporate procurement and entrepreneurs with lived-and-learned experience. The EMBs will have the opportunity to stress-test their business models to align with corporate needs and successful partnerships could develop from MSDUKs unique corporate network.
Backed by Unilever, WPP, Dow and Google, this accelerator demonstrates the commitment of these companies to supplier diversity and investing in the development of ethnic minority businesses that may become their supplier partners in the future.
Alexandra Tarmo, Head of Partnerships and Social Procurement at Unilever said, "I am very proud to lead this initiative at Unilever, which is part of our new Supplier Development Programme, aiming to provide access to skills and networking opportunities to under-represented racial and ethnic groups, in alignment with our commitment to spend €2 billion of our annual supplier spend with diverse suppliers by 2025.
Decisive and collective actions are needed to build a society that helps to improve livelihoods, embrace diversity, nurture talent, and offer opportunities for everyone. Collaborating with partners, such as MSDUK, WPP, Dow and Google, is a fantastic opportunity and absolutely aligned with our Partner With Purpose Programme to help to make a difference."
Tig Matthews, Chief Procurement Officer at WPP added, "We are so proud to be working with MSDUK, Unilever, Google and Dow on this new initiative which will arm ethnic minority-owned businesses with the networks, training, and skillset to help them grow and succeed. Strengthening the wider supplier network provides greater opportunities to bring diversity of ideas and perspectives into WPP as we continue to grow an inclusive and sustainable supply chain across the company."
Mayank Shah, Founder and CEO at MSDUK concluded, "For us, it is more than just creating a world-class acceleration programme. It is about empowering ethnic minority founders across the UK and creating an entrepreneurship and corporate ecosystem of equity and opportunity. With nearly one million businesses in the UK that are minority led, there is a huge untapped entrepreneurial talent that can be nurtured and supported. MSDUK is proud to work in partnership with Unilever, WPP, Google and Dow to empower EMBs and build supply chains of the future that is diverse and inclusive."
Applications are now open HERE and the deadline to submit applications is on 30 August 2021.