MSDUK LAUNCHES 1ST ACCELERATOR COHORT
04 Oct 2021
Welcome aboard our FIRST EVER MSDUK Accelerator cohort! No-one ever said the journey of growing a business was easy, but our cohort will be in the best hands to develop their knowledge, and business network of lifelong support within the MSDUK Family.
At MSDUK we pride ourselves on leading the supplier diversity agenda in the UK by connecting and nurturing the relationships between Ethnic Minority Owned Businesses (EMBs) and global brands, and behind the scenes we consistently provide crucial holistic support for our EMBs. Our brand-new Accelerator programme is our most comprehensive programme to date, bringing together expert entrepreneurs in networking, mental resilience, and leadership, to support our cohort with everything they need to succeed in their business ventures.
"The MSDUK Accelerator empowers ethnic minority founders across the UK and aims to create an entrepreneurship and corporate ecosystem of equity and opportunity. MSDUK is proud to work in partnership with Unilever, WPP, Google and Dow to empower EMBs and build supply chains of the future that is diverse and inclusive." – Mayank Shah, Founder and CEO of MSDUK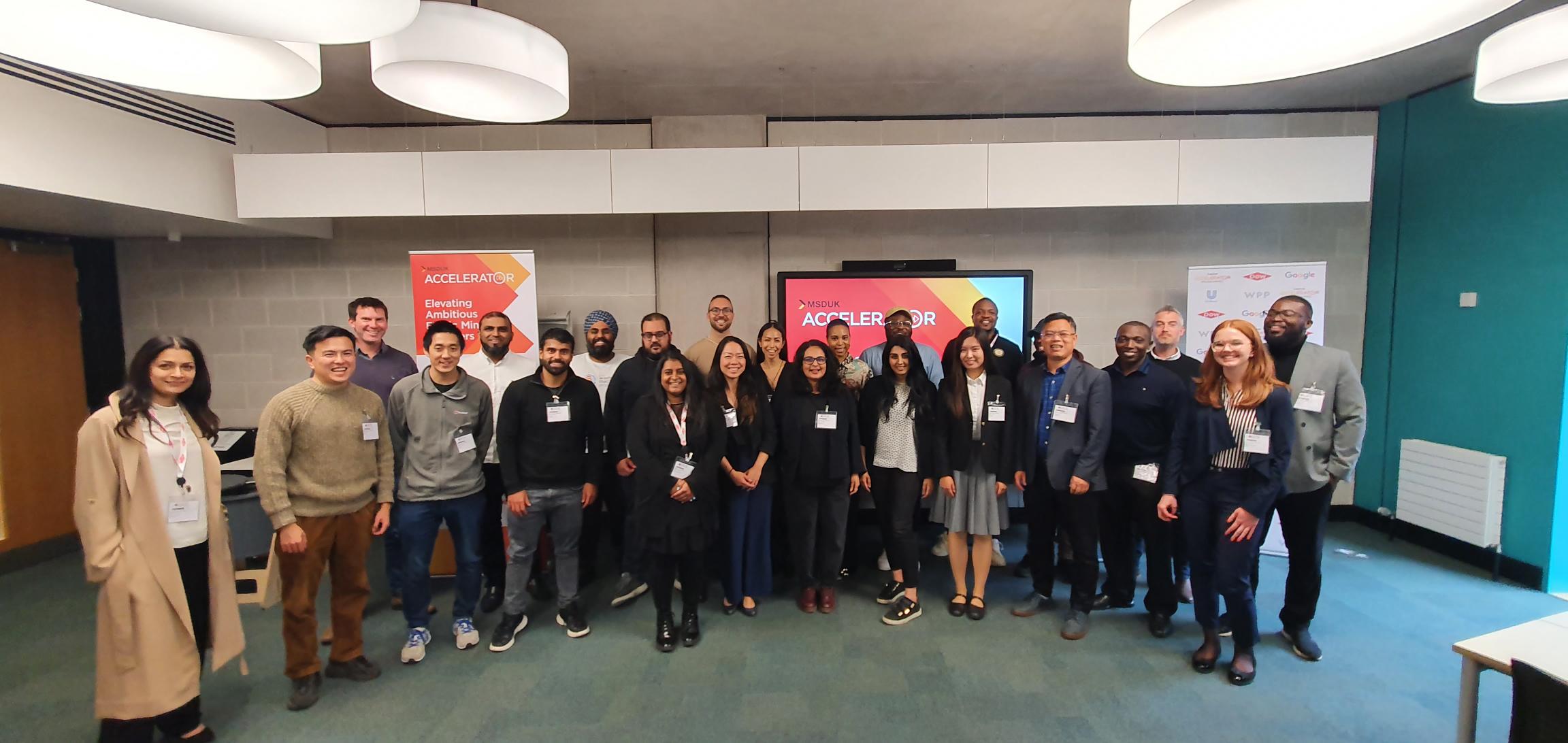 We are proud to introduce you to the innovative start-ups selected to be part of our first MSDUK Accelerator cohort.
Citispotter
Copy editing made easy! Citispotter's AI powered content assistant helps optimise any brand's content for better emotional engagement, enhanced quality and reach. With Citispotter marketers can create consistent, inclusive, safe, and engaging content which adheres to the brand style guidelines of any brand. Check out their website: https://citispotter.com/
Taino Foods
Named after the indigenous people who first populated many of the Caribbean islands, and based on delicious Caribbean recipes, Taino make condiments that are accessible to everyone using all natural ingredients! All of their pickles, chutneys, sauces and syrups, are vegan, gluten and nut free, making Carribbean food adaptable to any dietary needs. Taino aim to celebrate the heritage, culture, vibrancy and flavours of the Caribbean with every bite, making sure everyone can try it! Find out more about what they do here: About – ThisIsTaino
Camnexus
Camnexus are working to critically provide IoT (Internet of Things) solutions, and tech transfer platforms, to respond to the global need for sustainability. They help to efficiently manage resources, take care of the environment, whilst maintaining continuous remote monitoring and predictive analytics. By providing their clients with insights for how to efficiently manage their most valuable resources, they impact on clean water and sanitation, affordable and clean energy, sustainable cities and communities and responsible consumption and production. Find out more about their crucial work on their website: About – Camnexus IoT
netwomen.co
netwomen.co provide a crucial platform for women in business to grow, network, build confidence and expand knowledge. The diverse, inclusive community they have built enable women to provide peer-to-peer support and knowledge, to inspire each other and other successful women globally, working together to close the gender and ethnicity gap. Check out more about what they do: Networking & mastermind groups- inspire | support | include (netwomen.co)
Unitrove
Unitrove Energy work to deliver zero-emission fuels, supporting businesses in their transition towards a net-zero future. They are committed to providing a sustainable, virtuous world powered by clean, reliable and affordable energy. Embracing the UN Sustainable Development Goals (SDGs) they consistently work towards great sustainability, aiming to be carbon neutral before 2030 and carbon-negative thereafter. More about their crucial work can be found on their website: Our Mission | Unitrove
&Facts
&Facts work directly with e-commerce business owners, to understand the current market environment and help them to sell more products. Noticing that many small businesses were locked out of obtaining crucial insights to grow, &Facts democratises this valuable data. They work with small businesses to provide these insights and understand their constantly changing customer behaviour, advancing their growth. Check out more about how they help small businesses here: Home – &facts (andfacts.com)
Datafify
By providing a single, unified platform for marketing integration, governance, and real-time delivery, Datafify creates a fluid data pipeline, enabling businesses to focus on their valuable insights. Their platform quickly connects data from necessary platforms, creating a unified, single customer view. Utilising their machine learning models and lookalike audience creation tools, they enhance collected data, enabling businesses to personalise their content delivery, providing quality, useful customer experiences. Check out their work here: Marketing Data Platform | Datafify
leiho
Leiho are working to offer different ways we can all give back and help vulnerable communities, to provide them with the simplest essentials in life. When you buy a pair of Leiho socks, they give a pair to a to someone in need. They also help charities and organisations, supporting with volunteering, running campaigns and tailoring their giving to effectively provide organisations with the essentials they need. Check out their website to see more of the great work they do: How it Works – Leiho
Liquidity
Liquidity liberates businesses' cashflow through their digital working capital marketplace for corporates and their suppliers. Enhancing modern digital technology, Liquidity support corporates to optimise their capital and decrease the pay waiting time for small businesses. Find out more about what they do here. Home | TryLiquidity.com
LatchAid
LatchAid have developed the world's FIRST digital tool to provide 24/7 help with breastfeeding at every step of the way. They teach mothers-to-be about breastfeeding and facilitate valuable communication with other Mothers and professionals. Enlisting emerging 3D interactivity, AI technology, and sincere compassion, LatchAid assists families indiscriminately with the natural but difficult process. Visit their website here: Are you struggling to breastfeed? Here's the first baby breastfeeding app (latchaid.com)
You might recognise LatchAid as our Healthcare and Wellbeing category Innovation Challenge Winner 2021! We are delighted to welcome them to our Accelerator programme.
NODANNI
NODANNI partner with international governments and organisations to find solutions to help vulnerable people in society. Their sensitivity, coupled with their innovation enables for individual-focused solutions. Their flagship product, VACTRACA, a wearable vaccine tracking device, enables families in low-income countries to monitor infant routine immunization information – valuable information boosting infant survival. Check out their website: A B O U T US | Nodanni
LILA
LILA provide comprehensive support for businesses who are building inclusive cultures, aiding their reinforcement of diversity through creativity and innovation. They provide expert-led learning, including online courses, and brand consultancy, to create more inclusive, cutting edge campaigns.
Find out more about their crucial approach to business diversity here: Lila – A Fresh Approach to Diversity, Equity and Inclusion. (thinklila.com)
Tuck
Following the pandemic, everyone recognises the importance of shopping locally; Tuck makes local shopping even more rewarding. The Tuck App, rewards consumers who shop at local partnered businesses with cashback, and assists businesses with growth, data collection and rewards. Find out more about this innovative product here: tuck. for Business (tuckapp.co)
So Good Kombucha
So Good Kombucha not only provides the UK with a healthy, delicious fizzy drink, but does so whilst maintaining a sustainable, ethical focus. Their company values shine through in every decision they make, to ensure that they are being good to the planet and community. Moreover, they plan to support, train and employ refugees! Find out more about So Good Kambucha here: Our Story | So Good Kombucha UK
BetterShared
BetterShared is a leading platform championing discovery and consumption of contemporary art. Their 200+ network includes exciting emerging artists from Africa and the diaspora, and every purchase supports their work. Take a look here: About Us – BetterShared
Fertifa
Fertifa's compassionate team are constructed of fertility experts, employee benefits experts and HR consultants… but all are united in their personal and professional experiences of fertility issues. Coming together, their imperative work provides fertility care to everyone regardless of identity markers. Fertility care is notoriously a very expensive process, but Fertifa make it more accessible, inclusive and affordable for everyone. Check out more about the help they provide here: About Us | Fertifa – The UK's leading fertility benefits provider
The Content Architects
The Content Architects have boarded the ever-moving digital media and marketing train, on a mission to help businesses of all sizes with their customer communication. Their Key Dates finder features over 2000 important global dates, enabling businesses to plan their marketing, social media and promotional content accordingly, focusing on tapping into what their target audience care about. Find out more about their service here: Key Dates Finder 2021: For marketers by The Content Architects
Firstplanit
Firstplanit are an innovative digital platform facilitating building at all stages to support beneficial decision-making, whilst maintaining an environmental-focus and saving money. The previously damaging effect of building can now be made sustainable and eco-friendly, as well as cost-effective. Check out more about what they do here: firstplanit
A2ZTECH
A2ZTech are working to harness modern technologies to benefit software development, marketing, IT and security. They company, strong with designers, developers, engineers and consultants, provide customers with innovative, cost-effective and considerate digital solutions. Take a look at some of their case studies here: About A2ZTECH – Bristol, UK – Software Development Company
The Washing Machine Project
The Washing Machine Project provides low-income communities with accessible, off-grid washing solutions. With 70% of the world's population lacking access to an electric washing machine, hand-washing can pose a significant obstacle to wellbeing and livelihood. Their sustainable solution is designed to help everyone, everywhere, to alleviate the burden of hand-washing clothes. Find out more here: The Washing Machine Project
Very Puzzled
Very puzzled supports child-learning of the diverse society that we live in, by providing parents with puzzles exploring the richness of the African continent. Each puzzle features a variety of landmarks, monuments and attractions to stimulate child curiosity, bolster communication and cultural learning. Check out some of their exciting puzzles here: About – verypuzzled
Cambond
Adhesives are a multi-billion-pound industry which are increasingly difficult to recycle and contain dangerous, cancerous chemicals. But Cambond have a solution! Their carbon neutral bio-resin cuts production CO2 emissions by 80% and removes harmful chemicals, increasing sustainability and making a major step towards cutting pollution. Visit their website here: Cambond – A revolution in environmentally friendly bio-adhesives
Ringing a bell? Last month Cambond successfully pitched and won our Innovation Challenge Smart Buildings, Energy, and Net Zero Carbon category! We are excited to welcome them back for our Accellerator
HTCH
Pronounced "Hatch", HTCH are transforming how architectural drawings are created! They believe that architects should have access to the best tools the internet has to offer everywhere, without installs or downloads. Find out more about what they do here: About — HTCH
Circle Buy
Circle Buy are an online group-buying site, enabling consumers to buy products with friends or in bulk. This enables Circle Buy to pass on the best discounts on your favourite products, and make online shopping social once again! Check out more about what they offer here: www.circlebuy.co
TEXpert Ai
Embedding AI technology within the hiring process, TEXpert Ai are developing the future approach to achieving workplace diversity. Their platform utilises Natural Language Processing (NLP) and statistical models to remove recruitment bias on the basis of indicated identifiers. To find more information on how they are tackling this hot topic with emerging technologies, head to their website: Bias-free Recruitment | Texpert Ai Ltd
Saffron Tree
Saffron Tree produces preprepared, chilled authentic Indian dishes based on a collection of traditional family recipes. Their meals pay homage to the tradition and culture of the people of Hyderabad, the family hometown of founder, Monalisa. Check out more about the story behind their mouth-watering products: About Saffron Tree
Creative Nature
Creative Nature combine healthy eating with tasty eating, believing that you shouldn't have a healthy or 'free from' diet if you're not enjoying your food! Their health snack bars don't just taste amazing, but include high quality ingredients, natural superfoods and omit harmful heavy metals often found in cheaper products from China. Check out more about the journey and their delicious products here: About Us – Find Out More About Creative Nature Superfoods
Paddi
Paddi are fighting poverty with better rice… but how? Paddi reinvest their profits, getting rice farmers more efficient farming tools, and pushing to ensure that all rice is sourced directly so farmers receive fair prices. Not only is the rice delicious, but it makes supply chains more sustainable and efficient, and helps rice farmers escape the poverty cycle. Find out more about what they do and how you can get your hands on their tasty rice here: About – Paddi (eatpaddi.com)
MindHug
When it comes to mental wellbeing, Mind Hug understand that one-size does not fit all. Combining mainstream and alternative solutions, MindHug tailor coping mechanisms to help you to overcome mild to moderate mental health symptoms. Everyday activities demand huge stress which put enormous pressure on ourselves, but get help by reaching out for a MindHug! Find out more here: MindHug
Opus Innovations
Opus Innovations are working towards more sustainable, natural infant and baby-care products. Their 100% Natural Sanitising Water, Aquaint, has been produced to be safe enough for ingestion, use on newborns, use in food, and to sterilise feeding bottles, yet it contains no alcohol, harmful chemicals, fragrances or preservatives. Plus, their My Happy Planet 70% alcohol moisturising hand sanitising gel helps to prevent dry hands, and uses containers made from 100% recycled plastic, which are 100% food grade 'Prevented Ocean Plastic', and certified by Ocean Cycle. To find out more about their journey and their products, check out their website: Aquaint – Protecting you and your family, from birth! (aquaint-uk.com)
We are so excited to welcome such a diverse, innovative cohort to our first Accelerator programme. Bouncing off of our network support, tools and advice, we can't wait to see these businesses flourish!