Concrete4Change - Revolutionising Concrete for a Sustainable Future
04 Sep 2023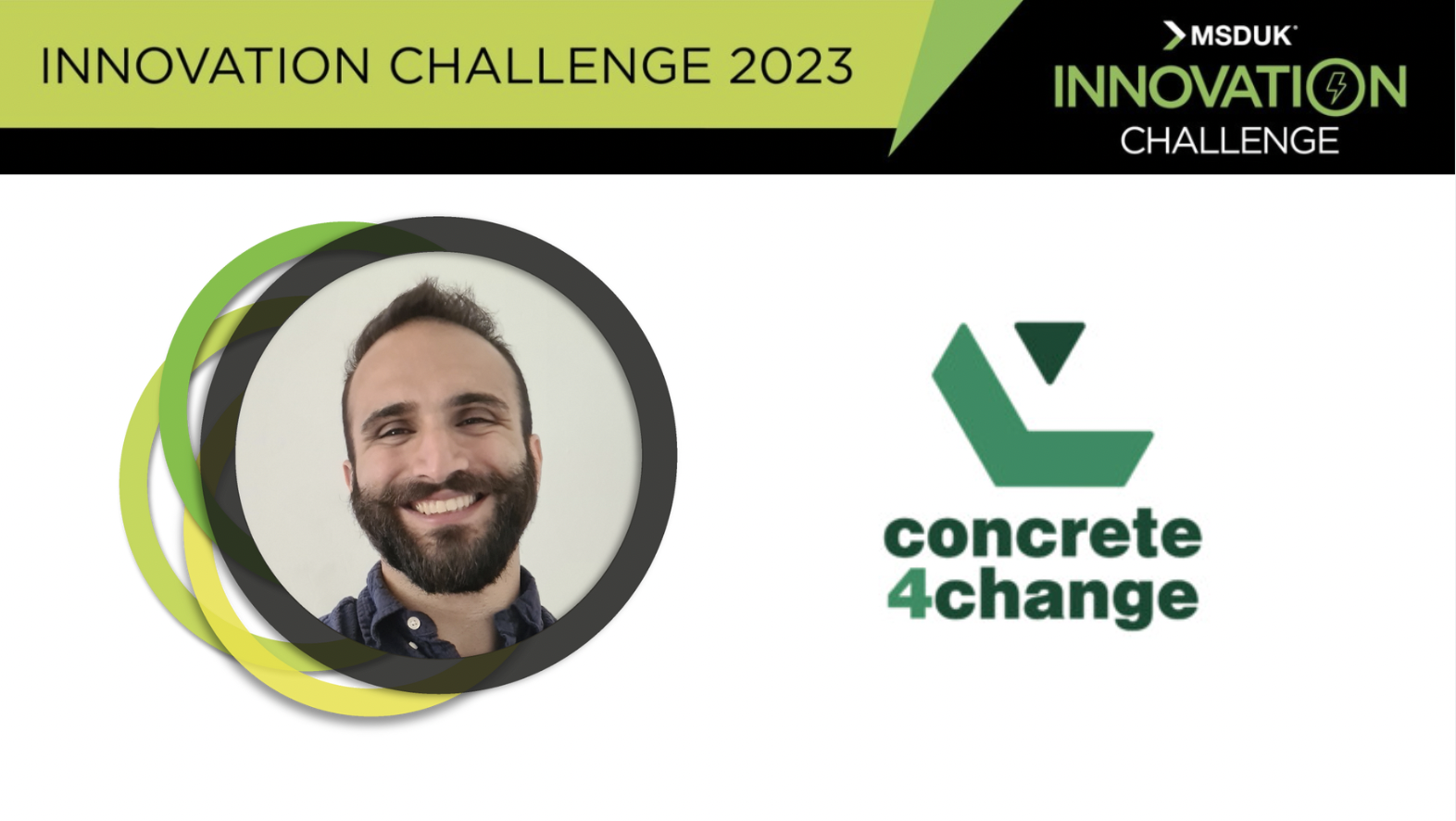 Dr Michael Wise, a Chemical Engineer with diverse industry experience, is the Co-Founder of Concrete4Change. After working in the oil and gas industry, he ventured into academia as an assistant professor in chemical engineering. However, driven by a desire to make a tangible impact, he joined the startup Worn Again Technologies, specialising in textile recycling. Having led the scale-up of their process, Dr Wise then joined an Imperial College spin-out, Lixea OU, specialising in end-of-life waste wood chemical recycling as their Technical Director. He led the R&D team in London developing scale-up parameters and built the engineering team and their chemical plant in Sweden. He then joined forces with his business partner Dr Sid Pourfalah to establish Concrete4Change, focusing on developing technology to sequester CO2 into concrete.
Concrete4Change originated from the vision to address the environmental impact of concrete manufacturing by combining learnings from the oil and concrete industries. By leveraging his expertise and collaborating with industry leaders, he embarked on a journey to develop a groundbreaking solution. Today, Concrete4Change is at the forefront of advancing net-zero concrete technology, with its innovative products and services gaining recognition across the industry.
Innovative Solution and Competitive Edge
Concrete4Change's innovative solution revolves around sequestering CO2 into concrete, significantly reducing its environmental footprint. By developing carriers or solid additive materials that capture and release CO2 during the concrete mixing process, the company enables concrete manufacturers to lower cement content—the primary source of emissions—by up to 20%. This reduction leads to stronger concrete structures while offering a substantial decrease in both emissions and costs. Concrete4Change's solution distinguishes itself from competitors by delivering a more efficient and economically viable approach to sustainable concrete manufacturing.
Shared Commitment
Concrete4Change has achieved remarkable milestones on its journey. One notable success is attracting investments from major concrete companies like Siam Cement Group and Goldbeck GmbH. These partnerships signify industry recognition and a shared commitment to driving sustainable practices. Concrete4Change's technology, once fully implemented, has the potential to reduce CO2 emissions equivalent to all of Europe's emissions—a monumental achievement in the battle against climate change.
Prestigious Platform
Concrete4Change became aware of MSDUK and the Innovation Challenge from a colleague in the D2N2 Local Enterprise Partnership in Nottingham and it was explained as a prestigious platform fostering innovation and entrepreneurial excellence among ethnic minority entrepreneurs. Through their dedication to making a positive impact, Concrete4Change connected with MSDUK, recognising the potential to amplify their mission and gain valuable exposure through the Innovation Challenge.
Concrete4Change's motivation to participate in the Innovation Challenge extends beyond the £20,000 cash prize. They aim to leverage the platform's opportunities, including showcasing their business, pitching to a wide audience, and networking with influential corporate leaders and fellow ethnic minority entrepreneurs. The exposure and connections gained through the Innovation Challenge align with Concrete4Change's vision to create a more sustainable future for the concrete industry.
Highlights at the Innovation Challenge Finals
Concrete4Change eagerly looks forward to the Innovation Challenge Finals, as Dr Wise explains: "The finals take place at the MSDUK Business and Innovation Show in September 2023. We are excited to present as the event provides a significant platform. The opportunity to present and exhibit our business to a diverse audience including representatives from leading global brands including GSK, Meta and Google. We are also looking forward to the many networking opportunities and engaging with other like-minded entrepreneurs from diverse backgrounds. It's going to be an event not to be missed."
Business Impact
Should Concrete4Change be announced as the overall winner of the MSDUK Innovation Challenge, the prize will be strategically allocated to support the company's growth, such as furthering research and development efforts, expanding its team, and enhancing marketing and promotional activities. Ultimately, the cash prize will provide a significant boost to Concrete4Change's overall business objectives and contribute to its mission of transforming the concrete industry.
The MSDUK Innovation Challenge Finals will take place at the MSDUK Business and Innovation Show in London on the 14th and 15th September 2023. To purchase tickets, please visit: https://www.conference.msduk.org.uk