SAP, MSDUK, PYXERA GLOBAL ARE PARTNERING TO OFFER PRO-BONO SUPPORT FOR BLACK-OWNED BUSINESSES IN THE UK
21 Oct 2021
SAP, MSDUK, and PYXERA Global are partnering to offer six weeks of pro bono business support for Black entrepreneurs in the United Kingdom as part of SAP's Pro Bono for Economic Equity programme, a new initiative created by the company's Corporate Social Responsibility team in support of their Diversity, Equity, and Inclusion efforts.
In a time where regular business will be disrupted for the foreseeable future, SAP seeks to assist Black-owned business owners in building resiliency and adapting to this new normal. SAP sees the value in tapping its workforce to help communities of colour build wealth, retain jobs, weather this disruption, and even emerge in a position to expand.
The programme was conceptualised as a part of SAP's response to the racial and social justice movement, with a goal to leverage the skills of the company's talented employees to foster equity in the economic status of systemically disadvantaged populations. A first phase of pilot assignments was completed in the United States in June 2021, and the programme has now been expanded to the United Kingdom, Brazil, and South Africa, with a second cohort in the United States.
The Black-owned businesses that have been selected to take part in the Pro Bono for Economic Equity programme in the United Kingdom are:
Generation Success
Generation success is an international award-winning social enterprise that specialises in early careers talent development and recruitment within the professional services (law, technology, banking and finance and consulting).​ The focus of the SAP project will be to provide recommendations on the company's operations and data management that will improve the experience for its beneficiary groups.
Kapsule
Kapsule is a technology startup that operates within the pharmaceutical industry to enable the provision of the three A's of medicines across the world: Accessibility, Affordability, and Authenticity. Kapsule leverages a mixture of cutting-edge technologies to track physical goods, provide a digital chain of custody, and provide extensive supply chain performance analytics/reporting. The SAP team will work to provide Kapsule with recommendations and a framework of best practices for structuring their deals and onboarding of new client companies.
Lendoe
Lendoe is the UK's first funding marketplace dedicated to providing access to funding for entrepreneurs from diverse backgrounds. To date, Lendoe has supported entrepreneurs from these communities in accessing over £2 million in funding. The SAP team will focus on providing Lendoe with a strategic roadmap for the implementation of technological integration goals that will make the company more nimble in its ability to lend to diverse entrepreneurs.
Micro-Fresh
Micro-Fresh is a chemical supplier whose anti-bacterial, anti-viral technology is used in a wide range of applications and industries to keep items fresher for longer. The SAP project is expected to provide recommendations on effective Enterprise Resource Planning (ERP) solutions that Micro-Fresh can implement into the business to consolidate business functions, increase operational efficiency and transparency, and optimise business performance. ​
Translayte
Translayte provides certified and business translation services that can be easily ordered online, are competitively priced, and are delivered quickly.​ We help translate personal or business documents, websites or software from a wide range of document formats across multiple languages by leveraging a pool of over 5,000 native-speaking professional translators, automation, and AI technologies. SAP will look to assist Translayte in developing a roadmap for growth that recognizes the company's unique strengths and market in order to meet its revenue goals.
UK Black Business Show
The UK Black Business Show provides education, networking, advice and services for Black entrepreneurs and Black career professionals to develop new networks, find new opportunities and accelerate their business ideas. ​Through UK Black Business Week, they have now created a week of mini events and summits, some in-person and some virtual, which extends the networking and education across the week with deep dives into specific sectors including finance, tech, media culture and sport, leadership. The focus of the SAP project will be to provide UKBBS with recommendations for better data management practices in order to better target future customers/service users as its business model evolves.
Wakuda
Wakuda is an online marketplace that provides shoppers of all backgrounds with access to the businesses and creative talents of the Black community, which have historically been underrepresented. The company aims to empower these businesses, as well as the wider society, to create positive impact and guide them on a journey of discovery.​ The SAP project will provide help Wakuda to better understand its customer segmentation and recommend improvements to its UX roadmap to create a more seamless experience for both the customer and vendor.
"We are investing in new programming to ensure greater opportunities for Black communities around the world. The goal of this program is to leverage our employees' skills and business expertise to solve critical challenges for these underrepresented businesses. Based on 10 years of experience in pro bono consulting, we are confident that this approach will accelerate growth for these businesses and deliver on our promise of economic equity." Hemang Desai, Global Program Director, SAP Corporate Social Responsibility
"I've spent the better part of a decade supporting entrepreneurs across the European startup ecosystem. One of the biggest challenges facing black founders and operators specifically is the challenge of staff resource, particularly technical support. There is plenty of well-intentioned, one-off support for black entrepreneurs available, however, not much provides the same commitment as SAP Pro Bono for Economic Equity. The programme directly addresses the typically shallower social and professional networks of black founders and operators, which often prevents them from securing crucial support which can be the difference between business success and failure." – Gosbert Chagula, PYXERA Global Consultant & Co-Founder of Startup Discovery School
"We are delighted to partner with SAP & PYXERA Global, as we are always looking for valuable partners that complement our current offering of business support for our community of high-growth ethnic minority businesses and start-ups. We have built a diverse and inclusive ecosystem of partners to ensure that our members have access to the best opportunities to take their business to the next level." – Ioana Axinte, Head of Programmes and Partnerships, MSDUK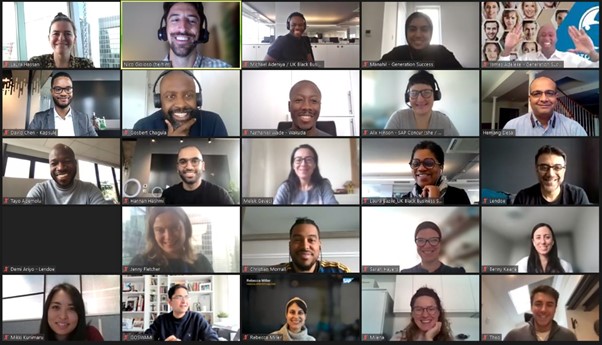 About MSDUK
MSDUK is the UK's premier non-profit membership organisation championing diversity and inclusion in public and private sector supply chains. Since its inception in 2006, the organisation has worked with and supported over 3000 ethnic minority businesses and 120 Fortune 500 firms, generating more than £735m worth of business for ethnic minority businesses. Visit: https://www.msduk.org.uk/
About SAP
SAP's strategy is to help every business run as an intelligent enterprise. As a market leader in enterprise application software, we help companies of all sizes and in all industries run at their best: 77% of the world's transaction revenue touches an SAP® system. Our machine learning, Internet of Things (IoT), and advanced analytics technologies help turn customers' businesses into intelligent enterprises. SAP helps give people and organizations deep business insight and fosters collaboration that helps them stay ahead of their competition. We simplify technology for companies so they can consume our software the way they want – without disruption. Our end-to-end suite of applications and services enables business and public customers across 25 industries globally to operate profitably, adapt continuously, and make a difference. With a global network of customers, partners, employees, and thought leaders, SAP helps the world run better and improve people's lives. For more information, visit www.sap.com.
About PYXERA Global
PYXERA Global's mission is to reinvent how public, private, and social interest engage to solve global challenges. For over 30 years, PYXERA Global has provided advisory counsel and program execution services to multilateral organizations, governments, and corporations in over 100 countries and has offices in the United States, India, China, Nigeria, and Ghana. The organization brings together the best of business, government, and non-profit organizations to solve global challenges in a local context. Visit: https://www.pyxeraglobal.org/