Helping Britain Achieve Net Zero With EDF Supply Chain
31 Aug 2023
About EDF
EDF is a major French electric utility company that operates in various countries, including the United Kingdom. EDF is involved in electricity generation, distribution, and supply, as well as a range of energy-related services. It is one of the largest energy companies in Europe.
The EDF Group has a significant presence in the UK, with a focus on nuclear and renewable energy generation. In terms of the supply chain in the UK, EDF's activities include sourcing raw materials, equipment, and services necessary for the construction, operation, and maintenance of their power plants and other energy-related infrastructure. The organization has been actively involved in promoting sustainability and low-carbon energy solutions in the United Kingdom. EDF's commitment to sustainability aligns with the UK's broader energy transition goals and its efforts to reduce carbon emissions.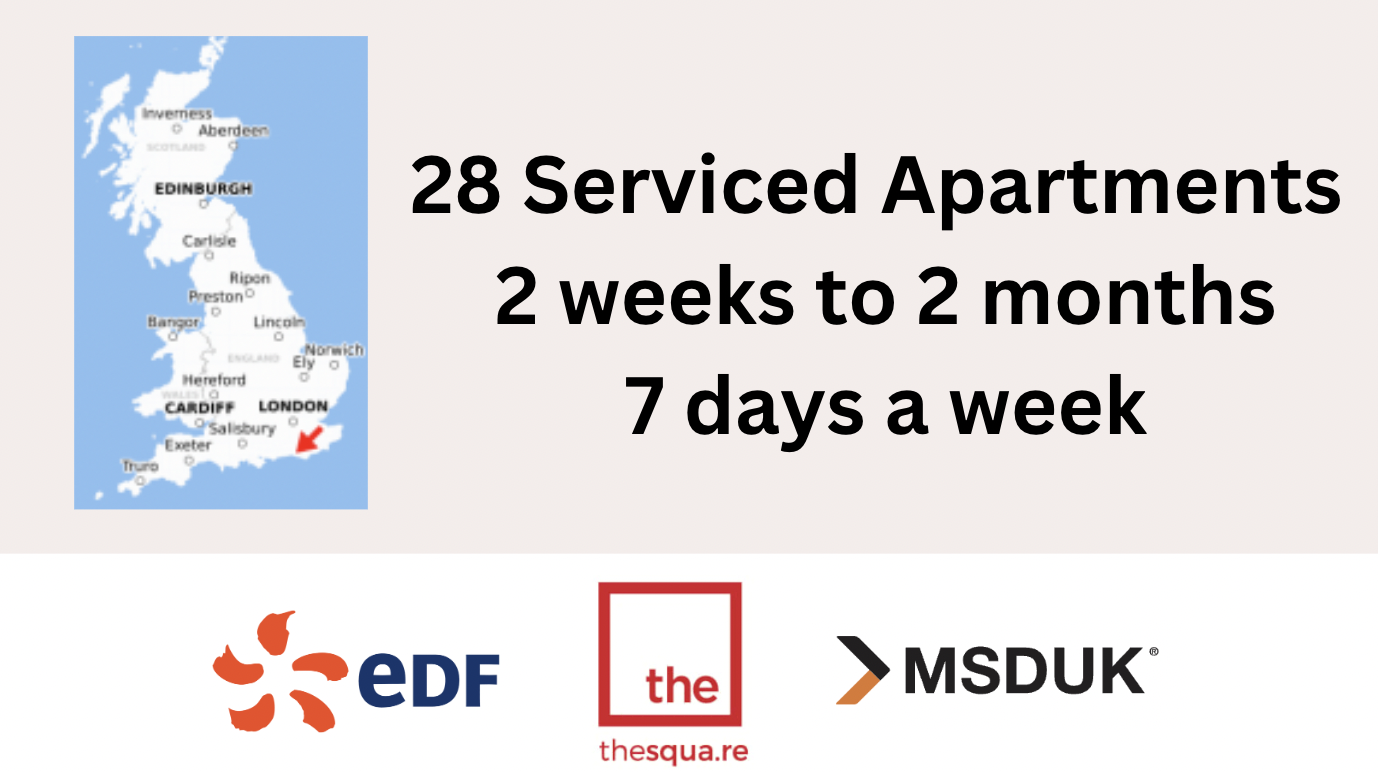 Serviced Accommodation to EDF Employees away from home
In February 2020 EDF Supply Chain attended an MSDUK (an organisation that represents minority and ethnic-owned organisations and puts them in touch with corporate members like EDF) 'Meet the Buyer event and were introduced to a company called the Thesqua.re who facilitate Serviced Accommodation for corporates when traditional hotel stays are less appropriate.
In late 2022, the EDF Supply Chain team were able to match EDFs requirement to have employees away from their home for an extended period (due to a project requirement) to the service that thesqua.re provides. Given the ~2 month duration that employees would be away from their homes in the North East and South West of England, EDF decided that hotel stays were not appropriate and that a serviced apartment style solution would be more comfortable for the employee.
"We worked with Thesqua.re to identify the right location and ensured sufficient capacity for the demand we needed. The outcome meant that EDF were able to best support our employees, but also that EDF were able to support a MSDUK supplier and supplement their turnover, helping them to grow (albeit EDF made savings against the equivalent cost of block-booking room nights in a hotel!)" Gary Smith, Senior Supply Chain Manager at EDF
It is one of the first times that EDF have explored the use of services style accommodation, and we are now on the lookout for other similar opportunities via Thesqua.re.